E-mail Accounts, Mailboxes, Forwarding, AutoResponders, Spam Filter and more
E-mail addresses are made up of recipient, the '@' symbol, and yourdomain.com (e.g. info@yourdomain.co.uk). In your Control Panel, the recipient will be either a mailbox or a forwarding address.
The examples on this page assume you are logged into your Control Panel (www.yourdomain.com/controlpanel) and are looking at the Email section.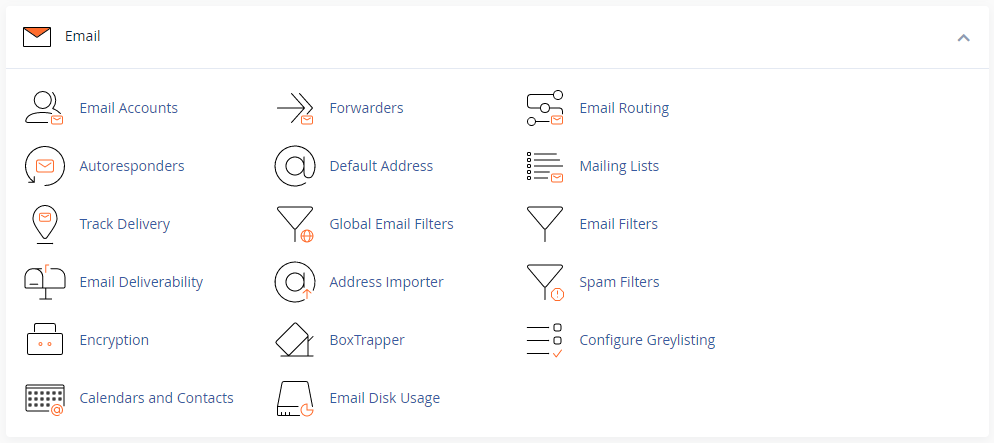 Email Accounts (Mailboxes)
Mailboxes are individual 'physical' boxes where e-mails are stored until you collect them - a bit like an in-tray
Mailbox names are the first part of an e-mail address (e.g info@mydomain.com)
Outlook (or your phone, or any other e-mail client software) connects to your mailbox(es) to collect your e-mails, or you can log in via Webmail
You can have lots of e-mail addresses going to one mailbox (see Forwarders, below), or if you have a number of people who need to receive their own e-mails, you can set up individual mailboxes (e.g. john@, fred.smith@ etc)
We will generally set up your main mailbox as info@ - this will be used to send invoices and renewal reminders to you unless you advise us otherwise
Your e-mail usernames (for Outlook and Webmail) are your full e-mail addresses
Forwarders
You can set up other e-mail addresses to go into your mailbox(es) (e.g. if you work on your own you only need to check a single mailbox, but can have a number of e-mail addresses in use (e.g. info@ [main mailbox], enquiries@, john@, etc)
Forwarding is ideal where the spelling of the e-mail address may be misheard over the phone, or where the spelling is ambiguous (e.g. john.smith@, johnsmith@ or clare@, clair@, claire@)
All of these e-mails will be collected from a single mailbox using the relevant Email Account (eg. info@mydomain.com)
Default Address
This is what happens to an e-mail if it is sent to an e-mail address which isn't set up with a mailbox or forwarding address (e.g. spam@yourdomain.com)
It is suggested that this is left as the default "Discard the email …" to reduce the amount of spam which is in circulation
Autoresponders (Out of Office)
You can set up Autoresponders to have a reply sent automatically when an e-mail is received
This could be "Thank you for your e-mail, etc etc" or "The office is closed for Christmas etc etc"
Spam Filter
The Spam Filter (SpamAssassin) is highly configurable and can be set to automatically delete spam based on the level of 'spamminess'
In the Additional Configurations (For Advanced Users) section you can 'Whitelist' email addresses so they are never classed as spam (e.g. from trusted sources/friends etc)